Recovering from Sports Injuries: Who Needs Rehabilitation?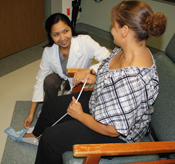 Summer brings newfound freedom for children and adults alike. During these vacation months, everyone is more likely to participate in sports at the amateur level. Without the supervision of trained coaches and other staff, people of all ages are more likely to suffer sports injuries. Indeed, sports injuries are one of the leading causes of emergency room visits in the summertime. Since these injuries generally affect muscles, bones, and joints, it's important to heal properly after a sports injury. For many patients, rehabilitation is a critical step in the healing process.
Purposes of Physical Rehabilitation
Healing most sports injuries requires some level of immobilization. As the injury heals, the surrounding muscles, tendons, and ligaments grow weaker and less flexible due to disuse. Injuries that require a longer healing time can actually cause atrophy to set in, where the muscle begins to waste away. Meanwhile injured joints may stiffen.
Rehabilitation can reverse these processes, rebuilding strength, increasing flexibility, and restoring range of motion. By nursing the injured area back to health in the supervised setting of clinical rehabilitation, the patient improves physical condition—and avoids re-injury due to over-exertion. The physical therapist works closely with each patient to ensure that the rehabilitation process occurs gradually and aligns with the body's capabilities.
Who Benefits from Physical Rehabilitation
Just as not every cut necessitates a trip the emergency room, not every sports injury requires formalized rehabilitation. The type and duration of the rehabilitation program depends on multiple factors, including the type and severity of injury; the patient's overall physical condition; and other health considerations.
Even amateur athletes can treat minor injuries (like strained or "pulled" muscles) at home. Resting the muscle, taking doctor-approved anti-inflammatory medications, and applying heat to the muscle are all appropriate home remedies.
Muscle sprains, where the ligaments that connect the bones are damaged, may require medical attention, especially if they are severe. However, mild sprains can be treated by resting the joint until the bruising and swelling begin to subside. Patients who sprain a joint will want to ease back into any physical exertion using the injured joint.
Any dislocation or suspected broken bone requires immediate medical attention. These injuries can take months to heal. As the injury heals, a physical therapist will work with the patient to restore muscle tone, as atrophy may occur while the joint is immobilized. Usually this rehabilitation is completed in the outpatient setting.
Conditions that require orthopedic surgery, from ACL repair to hip or knee replacement, will also require extensive physical rehabilitation. Patients who undergo these procedures may meet with both a physical and occupational therapist after the procedure. Usually rehabilitation begins with an inpatient program, before the patient has even been discharged from the hospital. After discharge, it will continue until the patient has regained independent function and improved physical condition.
If you have questions about sports injuries or rehabilitation, please contact us at Consult-a-Nurse® at 1-800-382-3522 for health information and free physician referrals.