A Tour of Services at Lawnwood Regional Medical Center and Heart Institute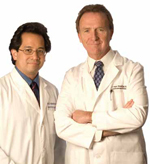 It is still the same big boxy hospital on the site since 1979, but there is something new in the air you can feel at Lawnwood Regional Medical Center and Heart Institute: powerful medicine.
The same excitement came when Lawnwood pioneered open-heart surgery on the Treasure Coast in 1999, and today remains the leader with the best outcomes in heart and vascular surgery. "We have done over 4,500 open heart surgeries since we began,"said The Heart Institute's Dr. Peter Downing. "During that time, the hospital has done over 39,500 heart catheterizations and over 7,000 interventions with balloons and stents. The experience here is better than anybody certainly in the 2-county area we serve, but also better than most of the hospitals to the South of us and the north of us." Downing said.
In 2006, Lawnwood worked to become a designated Gold Plus Primary Stroke Center.
"When you come here, you have a stroke alert if you have sudden onset of symptoms. And what happens is the whole hospital is alerted," said Nursing Director Cindy Norris, "You get bloodwork done immediately. You get a CT scan immediately." The rapid response gives patients a better chance at returning to a normal life.

Just ask Mike Claus, only age 44. "I am here today and still able to go out and play catch with my son and go for walks with my wife and play with the dogs and other animals I have—so for me this is come of the best care I could have gotten anywhere," said Claus, a May 2009 stroke survivor. "I was in the hospital just for 5 days and went through rehabilitation after that. I was back to work in under a month after my care here. The staff here was just awesome. Everybody seemed to really care about how I was doing."
In 2009, a new center for patient care is making a difference in the lives of 301 patients to date. The Treasure Coast Trauma Center Level II opened May 1, 2009. Since that date, the center has seen a vast array of critically-injured patients. A man impaled for hours left hanging on a fence—who lived to tell his story. A motorcycle deputy, hit, stabilized, rebuilt, and now back to work. An alligator attack victim who will think twice about fishing in waist deep alligator-infested swamp waters of Okeechobee, as he walks out of the hospital a healed man.
To all these people, the level II Treasure Coast Trauma Center is making a difference for all who live on the Treasure Coast. Before you'd be transported north or south an hour to the next closest trauma center.
"This is very positive news for the residents of the Treasure Coast - especially since it makes it more likely that critically ill patients will now have access to treatment in the "golden hour," the first 60 minutes after a trauma." said CEO Rodney Smith.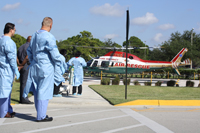 "Oh a huge difference. I mean the big difference is the hospital is not just an emergency room, This is a trauma center. As a trauma center we have 24 hour availablility of a lot of specialists that this hospital did not have before." Said Trauma Program Director Tom Ellison.
From the beginning, the center has seen double the patient load of the estimated state average. "Within a few days we had 3 or 4 patients, that had they come here 2 or 3 years ago would have probably died. They would not have made the journey out to another level of care—to a trauma center. So having this here—those people actually lived." Ellison said.
180 nurses, physicians, specialists make up the trauma center, making this hospital a place of powerful medicine.
"As a trauma medical director and as a surgeon, as a chairman of the department, I can promise that as a patient you will get the best care by the best trained team you can summon." Said Dr. Danny Jazarevic. "We are saving lives here."