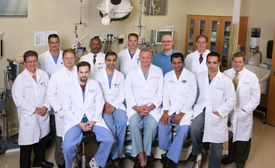 Thomas Ellison (in blue shirt) with his group
Thomas Ellison began developing the trauma program and working at Lawnwood since 2007 he was responsible for developing and monitoring the Trauma Program in all administrative and clinical aspects; assists Trauma Director in setting quality standards; acts on behalf of director of Division of Trauma when required; Identifies trauma specific educational needs and participates in planning/implementation of programs; Develops Trauma Center Quality Management Plan; Analyzes key data to assess important aspects of systems operations for improvement and trauma quality management; Promoting a multidisciplinary approach. The director maintains working relationships with other medical facilities and EMS which receive or send patient transfers to/from Lawnwood.
Ellison trained in the United Kingdom, as a Registered Nurse, completing post graduate courses in Critical Care and Education He moved to the United States where he worked at the Ryder Trauma Center and Surgical Hospital Center as the Nursing Administrator in Charge, he has opened two trauma centers and continues to act as a consultant to various trauma systems and work on various state and national committees to improve trauma care.
"The trauma center in the treasure coast is a true gift to the people of our region attracting more specialists to the region and improving survivability in the event of a severe injury." said Tom Ellison.
To contact the trauma department, call (772) 461-4000 and ask an operator to transfer you.