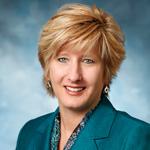 Suzanne Bertsch, Assistant Chief Nursing Officer, Lawnwood Regional Medic al Center & Heart Institute.
Ms. Suzanne Bertsch is the Assistant Chief Nursing Officer at Lawnwood Regional Medical Center & Heart Institute, joining the organization in January of 2015. Suzanne has been a member of the HCA family since 2002, and prior to joining Lawnwood was the Assistant Chief Nursing Officer at Memorial Hospital in Jacksonville, Florida.
Suzanne received her nursing degree from Florida Community College and attended Nova Southeastern University where she earned a Bachelor's in Nursing and a Master's in Healthcare Science with a concentration in Leadership. Suzanne is an active member of the Space Coast Navy League and most recently was the 2016 Indian River Chair for the March of Dimes March for Babies.
Suzanne enjoys traveling and outdoor activities such as skiing and snorkeling. She is passionate about animal rights and is an advocate for the adoption of rescue animals through the Humane Society. Suzanne is married and has one son.