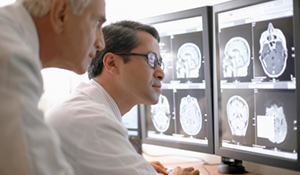 The Imaging Services Department is comprised of many different specialized areas, including radiology, CT scan, nuclear medicine, MRI, and ultrasound. Radiology is the use of x-ray to identify healthy or abnormal conditions within the body. CT scan is x-ray enhanced by a computer and shows three dimensional views of a particular part of the body. Nuclear medicine involves the use of radioactive isotopes to outline a specific shape or function of an organ or body party. The MRI utilizes magnetism to show various body parts. And, ultrasound is the use of sound waves to show many structures in the body, including organs and blood vessels. For additional information on our Imaging Services Department, call them at extension 4435.
Respiratory Care
The Respiratory Care Department provides services to our patients 24 hours a day, seven days a week. The department is staffed by respiratory care practitioners, who are state licensed and work to evaluate, treat and care for patients with breathing disorders. They work with patients of all ages and are qualified to perform intensive and critical care and neonatal procedures. Respiratory care practitioners are part of the life-saving response team that act on patient emergencies.
Diagnostic services include a Pulmonary Function Laboratory which provides diagnostic testing that measure the capacity of a patient's lungs to determine if there is impaired function. A blood gas laboratory provides diagnostic testing on blood samples that measures the ability of the cardiopulmonary system to maintain a relationship between breathing and cellular respiration.
Therapeutic services include operating and maintaining various types of highly-sophisticated equipment to administer oxygen or to assist with breathing; employing mechanical ventilation for treating patients who cannot breath adequately on their own; and administering medication in aerosol form to help alleviate breathing problems and to help prevent respiratory infections.