Lawnwood Regional Medical Center & Heart Institute
1700 S 23rd St
Fort Pierce, FL 34950
If you think you or a loved one may be experiencing a life-threatening medical emergency, call 911.
Pediatric Emergency Room in Treasure Coast
Accidents happen — and especially with children. When they do occur, you want the best possible pediatric emergency care for your child. You can trust the pediatric experts at Lawnwood Regional Medical Center to care for your children.

Our pediatric ER is the first and only one of its kind on the Treasure Coast. Open 24/7, the pediatric emergency room is separate from the primary ER and is solely dedicated to treating the emergency healthcare needs of infants, children and teenagers. Since a visit to the ER can be a scary concept for children, our medical staff creates a calm, nurturing environment for injured and sick children with child-friendly décor and furniture, colorful artwork and an aquarium. We understand children are different and have tailored our bedside manner to meet their needs.
We are the first and only emergency room in the Treasure Coast area to offer: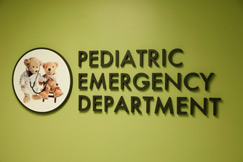 Pediatric triage
Pediatric-friendly treatment rooms
Board-certified emergency physicians trained in pediatrics
Child-sized equipment, gowns, IVs, airway management tools and other medical necessities
When your child needs emergency care, you can count on our pediatric specialists to provide for their physical and emotional needs.
Our Pediatric ER Staff
The pediatric emergency room staff at Lawnwood Regional Medical Center is comprised of board-certified ER physicians and specially trained emergency nurses to care for children of all ages. Our team utilizes the most advanced child-sized diagnostic and treatment methods to ensure your child's safety.