Rehabilitation therapy on the Treasure Coast
At Lawnwood Physical Rehabilitation Center, we provide physical therapy services and medication management for patients requiring intense inpatient rehabilitation. We also perform hand occupational therapy and vision occupational therapy to help people return to daily activities.
Our dedicated team will carefully assess your unique needs and work toward restoring your ability to function independently.
For more information about our rehabilitation center and the types of therapy we provide, call our Consult-A-Nurse® team at (772) 742-9050.
Our facility includes a state-of-the-art gym where our therapists will work to improve your balance, coordination, physical function, mobility and safety. We're also the only facility on the Treasure Coast accredited by the Commission on Accreditation of Rehabilitation Facilities. This achievement recognizes our commitment to internationally recognized service standards and best practices for inpatient rehabilitation.
Our physical rehabilitation team
Our highly trained rehabilitation specialists tailor treatment plans to meet every patient's physical, cognitive and emotional needs. To create your treatment plan, we'll rely on input from: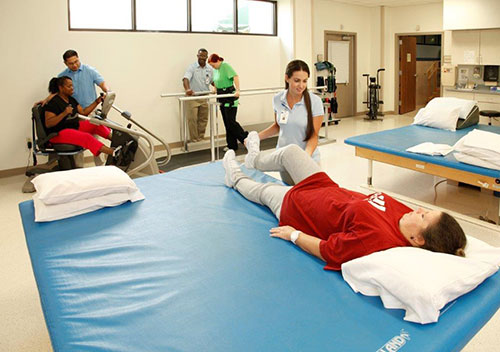 Physiatrists
Nurses
Physical therapists
Occupational therapists
Speech-language pathologists
Clinical psychologists
Case managers
Dietitians
Benefits of physical therapy
Physical therapy can greatly improve your quality of life following an illness or injury. We help patients regain functional independence after experiencing complications such as:
Amputation
Arthritis
Brain injury
Hip fracture
Joint replacement
Spine injury
Multi-trauma
Multiple sclerosis
Neuromuscular disorders
Parkinson's disease
We also provide therapy services for patients experiencing:
Limitations in self-care
Impaired mobility, balance and coordination
Limitations in strength and endurance
Cognitive and perceptual deficits
Speech and communication problems
Swallowing disorders
Physical therapy and rehabilitation locations
Retrieving location data...